Park City, Utah Disinfecting Service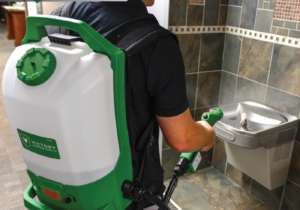 It's up to you to keep your staff and customers safe, and now's the time to think seriously about professional-grade disinfecting service Park City, Utah. Common household cleaners may knock out 99.9% of germs, but viruses aren't living organisms. They require specialized cleaning agents to keep your facilities safe, and our staff is here to ensure you meet current standards. 
Identifying Common Surfaces and Touch points
You'd be surprised at how many areas in your facility, home or vacation rental are touched on a regular basis. From door knobs and furniture to touch screens, counter tops, desks, elevator buttons and more, there are so many places germs and viruses like the flu and can COVID-19 lurk. Some are nearly impossible to reach using standard cleaning methods. 
Our disinfecting spraying team works smarter, not harder. Using innovative methods like electrostatic disinfection, we're able to address even the hardest-to-reach areas you'd never think of. When you count on our experienced professionals, you can rest assured we're:
Certified

Skilled in applying disinfectant in safe quantities

Using EPA-approved cleaning agents

Experienced in whole-space disinfection

Friendly and ready to treat your facilities as if they were our own
Disinfecting Service For Safety
Being a vacation destination, it's never been more important to have your family, friends, customers and guests feel safe. Disinfecting spraying your building, rental unit or residence is one way to make that happen. Whether you run a small office or a large warehouse, our team has the tools and knowledge to get the job done right. We service all types of facilities and homes in Park City, Utah including:
Commercial Spaces
Private Homes
Hotels
Vacation Rentals
Film & TV Sites/Sets
Event Spaces
Real Estate Showings
Warehouses and Equipment
Car Dealerships
Restaurants/Bars
Gyms/Spas
Schools
Hospitals
And More!
We understand how difficult it is to keep facilities and common spaces disinfected since Covid-19. Not only are there so many areas to cover, but there can be hundreds of employees and customers filtering in and out of the building on any given day. 
We go beyond focusing on high-touch areas like handrails, light switches, and doorknobs. Our disinfecting spraying Park City team uses sprays that cover large areas with ease. You have a duty to keep your valued employees and customers safe, and we can help you achieve. Call for a quote today.